An unexpected surprise occurred on the first day of the tournament. China's front-running team 'Super Valiant Gaming' has been defeated by North America's team 'SetToDestroyX', signing STDx up to enter the quarterfinals. Starting from the first game until extra rounds, STDx was in a tight match against SV and they finally took their place as the winning team in group A. We have met STDx, the new winner that dominated today's big match.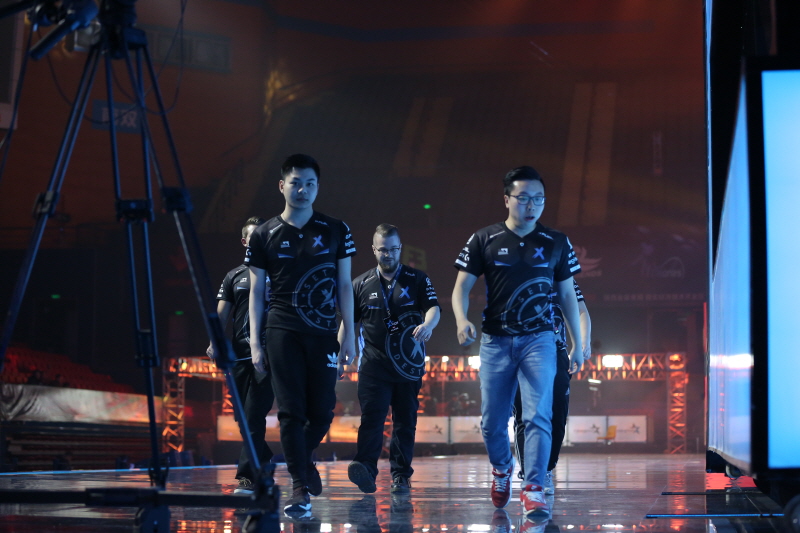 Q. You have defeated China's team SV who is also known as one of the strongest teams in the world and have confirmed your entry to the quarterfinals. How do you feel now?
Very good. We never thought we would beat SV by so many points away. It's an amazing feeling. We did beat SV, but we still think they are the world's no. 1 team and are very good.
Q. Where do you think SV made their mistakes in today's game?
SV has performed well in today's game and they were really strong. However, two of our team members (Supamen and REQ) have performed especially well. I think SV didn't make any mistakes, but our team just did an amazing job and showed great performance.
Q. Were there any tactics you've prepared to defeat SV?
We didn't prepare any special tactics to win. We just analyzed SV's gameplay style by watching previous games which helped us predict what moves SV will make to prepare ourselves.
Q. The first game ended with your victory after the extra rounds. You have shown great performance in the match between SV. What did your team discuss about after the first game was over?
There were many mistakes in the first game and we weren't able to show our moves to the fullest. After the first match, our team discussed a lot with each other and had many talks on mental control.
Q. You may meet HG.LongZhu in the tournament. How do you think that will turn out?
We are really looking forward to meeting them. Our game against them will be exciting. HG is also a well-known previous world champion and are a very strong team. This year's CFS goal for us is to defeat both SV and HG. The final goal is of course the champion title as well.
Q. Who do you think is today's best player?
Today Supamen and REQ were in great condition. However, since this is also a team game, I think all of our team members have shown their best play today.
Q. Who else do you think will go up to the quarterfinals?
First of all, HG is definitely expected to go up to the quarterfinals. But, since there are many strong teams other than HG, we think the teams to go up to the quarterfinals will be decided on their condition and some luck.
Q. After confirming your ticket to the quarterfinals in today's game, you don't have to participate in any matches tomorrow. How are you planning to spend your day?
We will check out some new Chinese food and tour inside the city. Xi'an is a very beautiful city with a lot of things to do. Also, we will be analyzing other teams that will be joining us in the quarterfinals and plan ahead some tactics to prepare for the competition.